CAPITAL DISTRICT — Leaves are big business in New York. By official accounts, the yearly fall foliage fireworks draw billions in tourism dollars. And it is expected this year will offer a sensational season.
Many factors leading up to and during the transition from warm summer to frigid winter could leave leaf peepers – along with some area officials hoping for a surge of revenue – looking at trees with wide-eyed excitement or only a passing glance of disappointment. Mother Nature ultimately gives a gift of bright orange and rosy reds or a palette of dull, muted tones. Sometimes, the leaves fall with hardly a quiver of change.
That has not been the case this year, according to area experts and state officials.
"I was just up in the Adirondacks yesterday, so I had a pretty good glimpse up and down the Northway and up into the mountains, and I think it is a great year, because it is a really gradual shift," University at Albany College of Arts and Sciences associate professor George Robinson said Thursday, Oct. 3.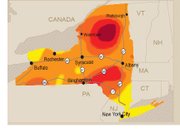 Robinson, an expert in botany, forest ecology and the science behind fall color, said there is a "real blend" of colors appearing and many trees are midway through the colorful transition.
"You got a nice mix of some green and flaming red and yellow," Robinson said. "If you like a rich palette, this a great time."
The science of the colors
A tree's leaves change color as a result of losing chlorophyll, the chemical trees use to create food from sunlight. As the green chlorophyll goes away, the colors kick in.
When and how quickly leaves change depends on how warm the days and cool the nights are in the fall, according to Peter Constantakes, spokesman for Department of Environmental Conversation. Once temperatures dip too low, the chlorophyll stops working and the green color fades away.
(Continued on Next Page)
Prev Next
Vote on this Story by clicking on the Icon