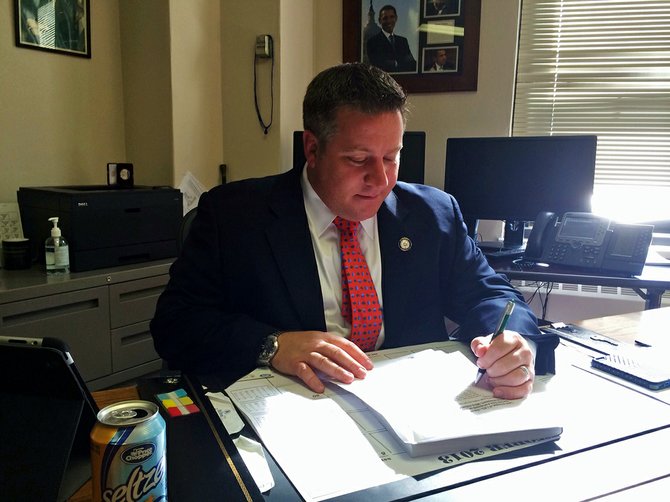 ALBANY COUNTY — Albany County would stick to the state's tax cap for the first time under County Executive Dan McCoy's proposed budget for 2014, but the fiscal plan hinges on funding the county nursing home for only the first six months of the year.
McCoy released his 2014 Executive Budget to county legislators on Tuesday, Oct. 8. It proposes a 1.6 percent tax levy increase and appropriations totaling more than $574 million. The budget includes a three-year financial plan to bolster general fund reserves, with $150,000 added next year and $1.97 million in 2015.
The county nursing home would only be funded until the end of June under the budget plan, resulting in a savings of more than $17 million in associated health care expenses in the second half of the year.
"We have to tackle our deficit, which is $243 million," McCoy said. "We have to start knocking that down."
There are 42 existing vacancies that would be eliminated in McCoy's budget for around $2 million in savings. Twenty-one are corrections officer and 21 are nursing home staff. McCoy said there are no layoffs included in his budget.
Sales tax revenue is scheduled to remain relatively steady at $243 million.
McCoy said savings were also achieved through reorganizing departments, enhancing partnerships and shared services, revenue recovery and other efficiencies.
McCoy said he hopes to maintain the county's credit rating, as well. In September 2011, Moody's Investor Services dropped the county's credit rating from Aa2 to Aa3. Moody's reaffirmed its rating over the summer.
"We have to strive to make a profit even though we are not in the business to make a profit," McCoy said. "By doing things differently … that helped us achieve the 1.6 percent."
The legislature's Majority Leader Frank Commisso said it was "good" McCoy was able to present a budget below the county's tax cap, but said legislators will still need to review the proposal.
(Continued on Next Page)
Prev Next
Vote on this Story by clicking on the Icon