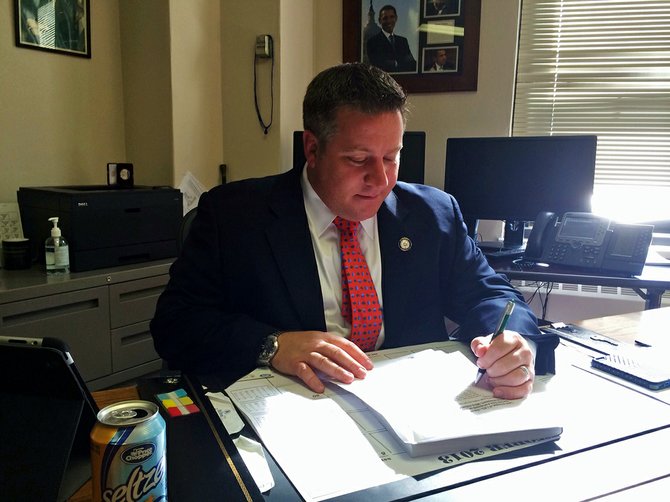 continued — Commisso stressed the importance of operating the nursing home and said it costs a resident about "a cup of coffee" per day.
"We also have to realize the nursing home is an important piece of government," he said. "It takes care of many, many people and those in need of health care, veterans who are returning home. These are things I myself and many of the members are not going to walk away from. It is part of county government and it is part of our mission, and it always has been."
Taxpayers would still be paying for the nursing home through an LDC, but making it "more professionalized" would lower the cost to a more manageable level, according to Commisso.
"If it were to cost $4 to $5 million per year, that would not be a big issue," he said.
Nearly a year ago, McCoy proposed turning over the nursing home to Upstate Services Group LLC, but legislators rejected his idea in favor of creating an LDC to run the facility. Though McCoy agreed the legislature's plan, he said he "still favored" USG taking over the home.
"Two things are very important: protecting our seniors and accepting responsibility and giving breaks to the taxpayers," McCoy said.
McCoy said he is trying to give taxpayers relief while spurring economic development that leads to jobs.
If the legislature were to opt to continue funding the nursing home for the remainder of next year, McCoy said the legislature would have to add $6.2 million to the tax levy. This would lead the levy to increase by 8.5 percent, exceeding the tax cap, unless other reductions were made or revenues were added.
The June 30 cutoff is a year from the creation of the LDC, McCoy argued. He said the timetable is not meant to push legislators towards his plan.
"If it works, I don't mind standing there and telling them it works," he said. "As long as I protect the seniors and relieve the taxpayers, that's all I care about. Under my plan, it happens."
There will be a public hearing on the 2014 Executive Budget scheduled before the end of the month.
Vote on this Story by clicking on the Icon