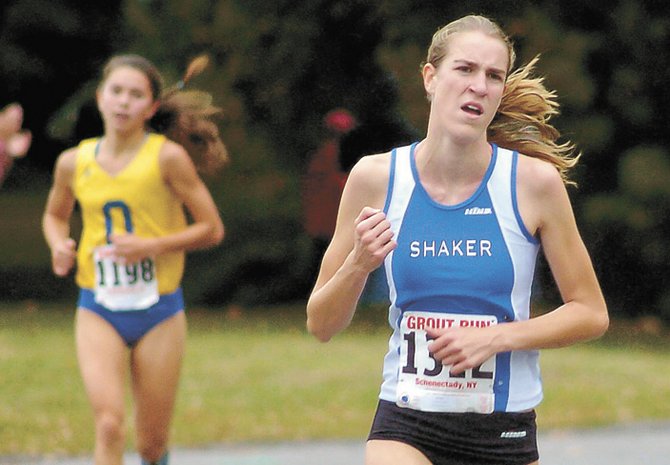 continued — "She's one of the best runners on Long Island, and we stayed pretty close to her (Melly)," said Myers.
The boys Division I race turned into a crosstown battle between Shaker and Christian Brothers Academy. CBA had the top individual runner in Justin Van Epps, but Shaker had the tighter pack as the Blue Bison defeated the Brothers 34-46 for the team title.
"The kids ran very well," said Shaker coach Ed Springstead. "Five guys (finishing within) 24 or 25 seconds, that's what you've got to do."
Van Epps earned his second invitational title of the season with a first-place time of 13:43.90. Washingtonville's Daniel Guzman was a distant second with a time of 13:56.36.
"Everyone was yelling at me to catch the (pace) truck (at the end), so I went for it," said Van Epps, who used a late surge to seal the victory.
CBA had a second runner in the top 10 in Liam O'Brien (fourth place, 14:14.09), but Shaker had five finish in the top 10. Paul Nichols led the Blue Bison with a third-place finish in a time of 14:01.32, followed by Jack Fallon-Underwood (sixth, 14:19.94), Daniel Hausamann (seventh, 14:21.15), Thomas Hale (eighth, 14:22.59) and Christopher Bouchard (10th, 14:28.32).
"Hausamann has had trouble with his knee and he hadn't been finishing races, but he was fine today," said Springstead.
Vote on this Story by clicking on the Icon