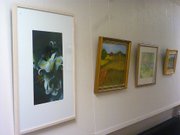 continued — According to past president Bob Link, the group meets about once a month from September to June. For most meetings, the organization finds a local artist of some notoriety to come and give a demonstration to help members learn new techniques. Then in the spring, a different artist is brought in to critique members' work.
The organization has typically held three shows each year at the Bethlehem Public Library. Two are for fun, while the third is judged. Awards are usually given for each medium, but this year the BAA opted for a change and overall awards will be presented.
The organization also holds workshops for artists depending on their mediums, and Link said members have formed smaller groups that meet on a more regular basis.
"It's a great way for new artists to get exposure," said Link, who started painting later in life. "It's a way to receive instruction in a friendly environment and produce better work."
Keitel said he hopes the organization will be able to host more exhibits now that they are working on outreach, and he wants to do more themed shows that may draw larger audiences. But because those types of exhibits take a lot more organization, and the artists need more notice in order to complete their pieces, he expects that might not happen until next year.
"We just want to form a stronger connection with our community," he said.
For now, visitors can see the BAA's latest exhibit at Bethlehem Town Hall on the first floor by the Receiver of Taxes office through the months of October and November. The next Bethlehem Art Association show will take place at the Bethlehem Public Library in November.
For more information, visit www.bethlehemartassociation.com.
Vote on this Story by clicking on the Icon