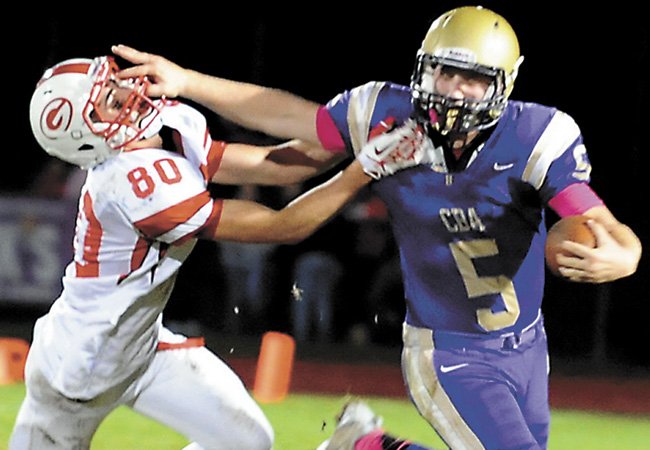 continued — CBA wasted little time taking advantage of its great field position. Nick Marini broke free for a 31-yard touchdown run on the Brothers' fourth play from scrimmage to make the score 7-0 less than three minutes into the first quarter.
"That interception definitely gave us momentum," said Croskey. "It gave us energy and set the tone for the rest of the game."
Guilderland's second series ended when Gallo fumbled the ball as he was sacked. CBA recovered the ball at the Dutchmen's 31-yard line, and Croskey scored from there two plays later to put the Brothers ahead 13-0.
CBA's next two touch-downs came courtesy of the halfback option pass. Marini connected with Alex Koshgarian on a 26-yard scoring strike late in the first quarter, and Donald Vivian hit Croskey on a 32-yard touchdown pass with 1:05 left in the second quarter.
"Those types of plays are real important," said Marini. "If you can get a team to trip themselves up, then you can keep the momentum going."
Guilderland was certainly fooled on Vivian's touchdown strike to Croskey. With no one near him, Croskey had time to stop, go back to catch the pass before it hit the turf, turn around and run into the end zone untouched.
"I saw a wide open field," said Croskey, "so I went back for it."
While the halfback option pass was working for CBA, nothing was working for Gallo and the Guilderland offense. Even when it appeared that the Dutchmen gained some traction with a big play, they'd slip up again. In one instance, Gallo connected with Smith on a 45-yard pass to bring the Dutchmen to CBA's 18-yard line with 7.4 seconds left in the second quarter, but the Brothers sacked Gallo on the next play to end the half.
"I'm proud of the way our team has played all season, but tonight we made mistakes that we hadn't made all year," said Penna.
Vote on this Story by clicking on the Icon