Photo Gallery
Colonie Cup 2013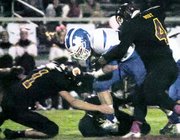 Highlights from the annual crosstown football battle between Shaker and Colonie on Friday, Oct. 18, 2013.
COLONIE — The Colonie Cup and the Liberty Division title reside in Latham again.
The Shaker football team scored two touchdowns in the first four minutes and pulled away for a 49-6 victory over crosstown rival Colonie Friday, Oct. 18.
Besides winning the town cup, the Blue Bison (5-0 division, 6-1 overall) claimed their second straight Liberty Division championship and a No. 1 seed for the Section II Class AA playoffs.
"We started out really well, and we met Colonie's intensity," said Shaker coach Greg Sheeler. "It was their senior night tonight, and they had a lot of emotions going."
It took Shaker all of six plays on the opening drive to score the first points of the night. Running back Sean Egan capped the series with a 35-yard touchdown run to put the Blue Bison ahead 7-0 2:11 into the game.
The night got worse for Colonie (3-2, 4-3) from there when it fumbled the ball back to Shaker at its own 45-yard line. Quarterback Matt Woods threw a pair of passes to get the Blue Bison inside the Garnet Raiders' 5-yard line, and then he handed off to Michael Tanu for a 4-yard touchdown run. Will Halpin's extra point made the score 14-0 with 8:18 left in the first quarter.
Colonie tried to play catch-up, but it was difficult against a Shaker defense that had allowed a total of 22 points in its first four Liberty Division games. Not having tailback Devon Edwards -- who suffered a season-ending knee injury the previous week against LaSalle -- made the task more difficult.
"He got injured three minutes into the LaSalle game, so we played virtually the whole game without him last week and we still won (32-26)," said Colonie coach Bill Roemer. "Obviously, we missed him tonight."
The Garnet Raiders got a couple of defensive stops after Shaker's early touchdown flurry, but the Blue Bison weren't going to be denied. Deven Koehler's 41-yard run midway through the second quarter set up a 3-yard touchdown run by Tanu to make it 21-0. Shaker then needed three plays on its next series to get six points on the scoreboard -- a task it completed when Jalon Chandler dodged several Colonie tacklers on his way to a 17-yard touchdown run. Halpin's fourth extra point increased the Blue Bison's lead to 28-0.
(Continued on Next Page)
Prev Next
Vote on this Story by clicking on the Icon