continued — There is a gluten-free menu available upon request and also a kids menu.
The chain recently started offering a new Sunday brunch menu, which is available at its Albany location from 11 a.m. to 2 p.m.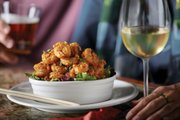 "What better way to enjoy Sunday morning than with grilled filet mignon, lobster, and poached eggs in the surf and turf eggs benedict," Bonefish Grill President Stephen Judge said in a statement. "We created this dish to provide an indulgent option for our customers that stays true to our specialties yet unique to the menu."
Some other new brunch additions include huevos benedictos with crispy corn tortillas and chorizo, spinach and mushroom eggs benedict, "American style" kobe beef and egg burger and Cajun shrimp omelet. The brunch is completed with peach Bellinis and traditional or passion fruit mimosas.
Health-conscious eaters can also request omelets be prepared with egg white substitute.
Bonefish Grill touts its dedication to "responsible fishing practices and the healthy stewardship of the world's marine resources." The company the National Oceanic and Atmospheric Administration and government regulations guide how it obtains fish and seafood. Its parent company, Bloomin' Brands, also has a Seafood Advisory Council to help implement best practices.
Bonefish Grill is also affiliated with Ocean Trust, which is an "award-winning ocean conservation foundation building science, conservation and industry partnerships for the sustainability of the oceans."
Diners can make reservations at www.bonefishgrill.com or by calling the restaurant at 459-2046. Reservations though are not required. Information and menus are also available on the website.
The restaurant was founded in St. Petersburg, Florida, in 2000, and has since expanded to around 190 restaurants in 32 states.
Vote on this Story by clicking on the Icon