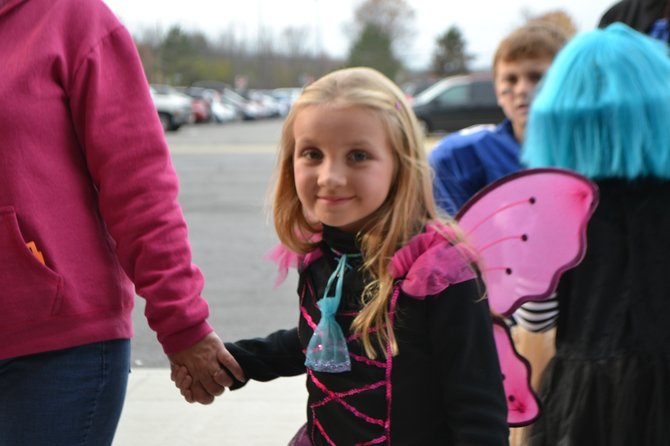 GUILDERLAND — Hoards of young, ghastly ghouls, supreme superheroes and pretty princesses craving sugary treats are expected to descend upon Guilderland High School for more than just a bounty of candy.
Guilderland High School is preparing to host its 10th annual Trick-or-Treat Street Saturday, Oct. 26. The event will see the school's halls, cafeteria and gymnasium transformed into a Halloween haven. The school's classes of 2014 and 2015 host the event as a fundraiser for events like proms and senior ball, but a portion of proceeds will also benefit Adopt a Family.
The event has grown every year and around 1,500 children attended the event last fall. The candy budget alone has increased by more than six-fold when compared to the first event.
"We started out very small … I think we were maybe 20 classrooms and one little cafeteria, and now we are three-quarters of the whole building," said Ann Marie McManus, Class of 2014 co-adviser and a staff member at the high school.
McManus has been at the helm since spurring the inaugural event, which is also organized by students of the graduating class each year. Feedback about the event also been positive, she said, and has helped shape its growth.
"Every year we evolve and change it has much as we can," McManus said. "I see the same faces year after year, so we must be doing something right to have them keep coming back."
District Superintendent Marie Wiles agreed the Halloween event has become a welcomed festivity for the community.
"Trick-or-Treat Street has become a wonderful tradition in Guilderland," Wiles said. "Children of all ages look forward to this opportunity for the community to come together and enjoy the spirit of Halloween in a safe and fun environment."
"Trick-or-Treat Street" is not confined to the district, though, because anyone can attend the event.
(Continued on Next Page)
Prev Next
Vote on this Story by clicking on the Icon