continued — "I have gotten emails, phone calls from outside the district thanking me for the event," McManus said.
Mimi Falcone, a senior helping organizing the event, said planning the event is stressful at times, but it's also very rewarding.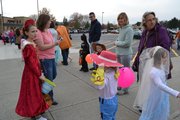 "I definitely love seeing every year all the kids that come out in the community," Falcone said. "I really think it is awesome some many people think of Trick-or-Treat Street as a safe, fun environment."
Falcone is looking forward to seeing the carnival up and running, because this year is going to be bigger than ever.
"We are adding a bouncy bounce and a couple more attractions and we are adding another food vendor," she said.
The cafeteria will be transformed into a haunted house and the gym will hold all carnival activities, including games and prizes.
"Pretty much everyone is a winner at every game, so the kids don't go home crying," McManus said.
There will be magician holding three magic shows throughout the event in the auditorium, and carnival clowns to entertain visitors.
This year, Guilderland Martial Arts will hold presentations and Michele's Charcoal Pit will offer homemade French fries, hot dogs, hamburgers, Philly cheesesteaks and grilled chicken. For a cooler treat, TCBY will offer frozen yogurt. Some of the additional food and refreshments include popcorn, pizza, cotton candy, water and juice.
McManus said seeing high school students entertain children who are trick-or-treating is worth all the effort of preparation.
"I just like seeing kids dressed up and I love seeing the way they interact with the high schoolers," she said. "I think the big kids get a kick out of seeing the little kids react to how they dress up."
There is a $5 cost for children entering the event, but adults can get in for free. Many activities are free, but some things cost money, such as food and raffles.
Trick-or-Treat Street lasts from 4 to 7:30 p.m. on Saturday, Oct. 26, but trick-or-treating ends at 7. Additional parking is at the rear of the school.
Vote on this Story by clicking on the Icon