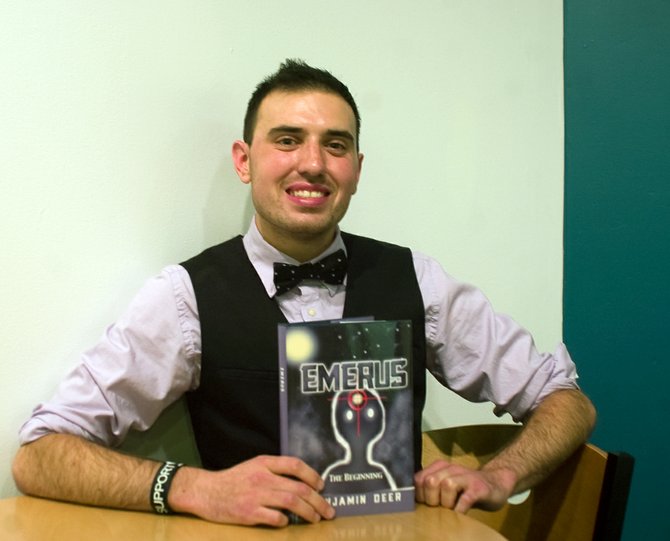 GUILDERLAND — Benjamin Deer's inspiration for an adventure fiction book series bubbled up in the most unlikely of places: a bubble bath.
"I was taking a bubble bath and I was just relaxing," Deer said. "I went under to wash my hair and I saw an image. It wasn't like a vision … but it was an image that when I closed my eyes I saw and everything the book encompasses stems from that one image."
He said the image was of two needles, like drills, going into a character's eyes.
"I came up out of the water and I said, 'Well, that was interesting,'" he said. "Being a creative writer I had that as the main focus and built a story around that image."
Deer, a 2006 Guilderland High School graduate, graduated from SUNY Oneonta and became managing editor at "The Freeman's Journal," a weekly newspaper covering Otsego County. But Deer decided to move back to his hometown.
Once living in Guilderland again he latched on to his inspiration to craft a series around main character Johnny Engleheart.
"I just told myself that I had these ideas for this series and I just said, 'Why don't I just go for it?'" he said. "Sometimes, I was staying up until like three in the morning … working and staying up. I saw it in the distance and I just followed it and made a beeline to it."
The first installment of Deer's adventure fiction series, "Emerus: The Beginning," was welcomed during a launch party on Friday, Oct. 11, with family and friends offering congratulations and hugs to the newly published author. The book was published through Xlibris, a "print-on-demand" service company.
In the book, it is discovered Johnny, an 18-year-old kid, finds a strange metal chip implanted in his neck after he faints during a baseball game. His once normal world is suddenly filled with frightening nightmares, and he finds himself playing a key role in a situation that could determine the fate of the world.
(Continued on Next Page)
Prev Next
Vote on this Story by clicking on the Icon