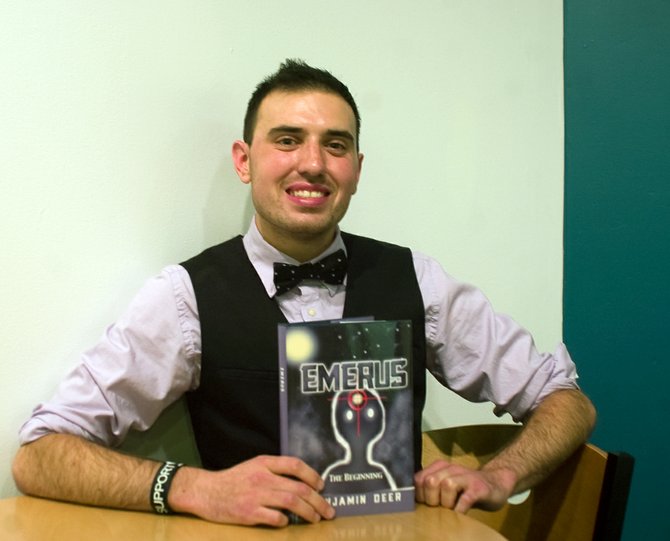 continued — Deer said the experience of publishing his book was "surprising" and unlike anything he imagined it would be.
"I thought writing was the hard part," he said. "That was not the hard part. Everything else was the hard part."
The majority of his book was written between September 2012 and this May and is meant to be a quick, thought provoking read that comes in at 188 pages. The series is planned to be three parts in total, but Deer said it could stretch to up to five parts. He plans to have the second part done in April.
"Originally, I had thought this was going to be one book, and I had seen the ending and I had the beginning already written," he said. "Along the way, so many things happened with character development and plot sequences; it got so much bigger as the book progressed."
Deer said his interest in creative writing was spurred as a child, because his mother was something of a writer, too. His mother died when he was 12 years old, but that inspiration has stuck with him.
"I learned from her about the freeing quality that creative writing can give to you," Deer said. "I have been writing things ever since I was 10. This first book is the culmination of everything I have learned up to this point in my life."
Deer's grandmother, Doris Bourgeois, said he was always a "great writer" and remembered his early works fondly.
"In high school I remember some of his essays and things he would show me," Bourgeois said. "I said, 'He is going to be great and I have a lot of confidence in him.'"
Bourgeois said she could "definitely" see her daughter come through in his writing.
"She was a great writer, too," Bourgeois said.
For more information or to purchase the book, visit www.benjamindeerbooks.com. The book is available as a hardcover, softcover and an ebook.
Vote on this Story by clicking on the Icon