The writer is a former Spotlight News reporter.
I've always disliked the color pink. But when searching in a field for tiny pink potatoes on an organic vegetable farm because a frost is coming, and there's a treacherous windstorm, and it's raining sideways, and the soil is ricocheting from the ground into eyes, and it's so cold that cheeks are numb to the bone… well, finding each one is like finding the most beautiful gem.
Even in these conditions, insanely, unforgettable conditions, I don't regret a single suffering moment that day.
I was in Iceland.
Rewind to a month earlier. I was a determined Spotlight reporter, fresh out of college and searching for my next big move. It was time to do the one thing I had always talked about but never attempted: traveling.
My boyfriend had decided to WWOOF (World Wide Opportunities on Organic Farming) at Vallanes, an organic vegetable farm in the east of Iceland. He flew out Aug. 1 to begin his two-month journey.
With a phone plan set up, two months without him seemed tough, but doable. But as a pseudo-hippie, I was also interested in getting my fingernails dirty on a farm. After only a short time, it was mutually decided: I would join him. To WWOOF, you only need to pay for travel and while farming, your host feeds and shelters you. Flight booked, muck boots bought and overalls considered, I said goodbye to my Spotlight family and made the endurably long trip across the sea.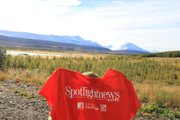 While I could write an entire book about my less than three-week adventure, I'll just highlight pieces for now. First, just in case your 10th grade geography teacher failed you, Iceland is actually green and Greenland is actually ice. Yet, Icelandic weather can change three times in one day. For the most part, the weather stayed beautiful up until a few days before we left, when a snowstorm blanketed the mountains in front of the farm and sent extreme winds to our land.
(Continued on Next Page)
Prev Next
Vote on this Story by clicking on the Icon