BETHLEHEM — After a nearly four-month installation process, Owens Corning recently celebrated the completion of its large-scale solar generation project on site at the company's Delmar plant.
Representatives from Owens Corning, the New York State Energy Research and Development Authority, National Grid and the Constellation Energy Group were all present for a ribbon cutting ceremony at the plant Tuesday, Oct. 15. The solar generation project saw the installation of 9,000 ground-mounted solar panels on 9.6 acres of the plant's land.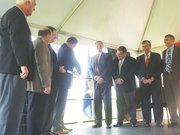 "As a company that firmly believes it is our duty to help solve the world's most pressing energy and climate challenges, we are constantly seeking solutions that will materially contribute," said Doug Pontsler, vice president of environmental health and safety and operational sustainability at Owens Corning. "This project is a great example of that and we're quite proud."
The company said the project is the first stage in developing 200 acres of land it has available on the property for similar sustainable uses. The 2.7-megawatt system will generate about 3.3 million kilowatt-hours of electricity per year, providing about 6 percent of the plant's annual power usage.
According to Owens Corning, if that same amount of power were generated using typical nonrenewable resources, about 2,339 metric tons of carbon dioxide would be released into the atmosphere. That equals the annual emissions of about 487 vehicles.
"The products we manufacture in this plant are a primary way to reduce consumption in residential and commercial buildings, saving consumers and businesses billions of dollars in heating and cooling costs," said Julian Francis, Owens Corning's vice president and general manager of residential insulation. "And, of course, not using energy in the first place is the best way to protect our natural resources."
The project is being partially supported by NYSERDA. In March of 2013, Gov. Andrew Cuomo announced the state would provide funding through his New York Sun initiative to "develop and construct large-scale solar projects throughout the state."
(Continued on Next Page)
Prev Next
Vote on this Story by clicking on the Icon