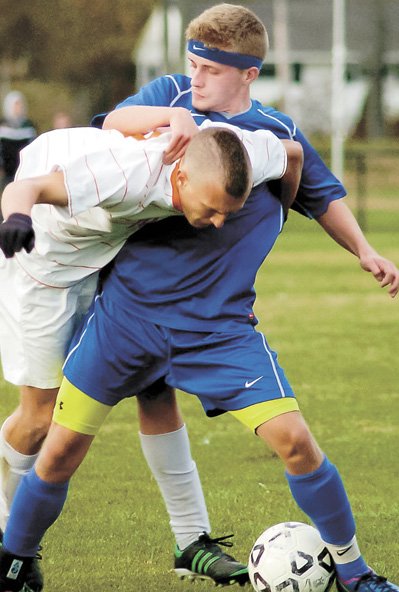 DELMAR — The Bethlehem boys soccer team knew it was in for a tough game against Big 10 champion Albany in Saturday's Section II Class AA quarterfinal game.
What the Eagles didn't expect was to come out on the losing end.
Emmanuel Ishimwe's goal with less than 15 minutes left in the second half gave Albany a 1-0 victory over Bethlehem in Delmar and its second consecutive Sectional semifinal berth.
"We believe in our talent," said Albany coach Dave Weiss. "Unfortunately some people don't believe in our talent, but we do."
"Just a bounce, that's all it was," said Bethlehem coach Phil Ridgway. "We had possession throughout the game, and they played great defense."
Bethlehem (13-5-0) had a golden scoring chance early in the second half go for naught. Matt Henning got ahead of the Albany defense and had a one-on-one with Albany goaltender Lucas Phayre-Gonzales, but he sailed his shot high over the crossbar.
Neither side seriously threatened to score again until Erick Kwizera sent a crossing pass into the Bethlehem penalty box. Ishimwe collected the ball and shot it past Eagles' goaltender Liam Dole to give Albany a one-goal lead.
"What can I say? He's a goal scorer, and he's a freshman," Weiss said of Ishimwe. "If anyone is going to sneak in and score a goal like that, it's him."
Bethlehem applied heavy pressure on Albany's defense and generated a pair of dangerous corner kicks in the final 14 minutes. Henning had one that hit the crossbar and went out of bounds, and he had another that Austin Lang couldn't catch up to in time.
After the final whistle blew, Albany's student section mobbed the Falcons at midfield while the defending Class AA Sectional champs from Bethlehem lay scattered on the field trying to absorb the sudden end to their season.
(Continued on Next Page)
Prev Next
Vote on this Story by clicking on the Icon