GUILDERLAND — Kathy Burbank will be leaving the Guilderland Chamber of Commerce after serving as the organization's president for six years.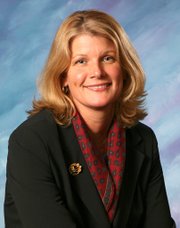 "I felt like I had been here a long time and I didn't want this place to just end up being me," Burbank said. "I knew coming in here that I didn't want that to happen."
On Nov. 8, Burbank will leave her position as Chamber president to become executive director of Community Caregivers, which is a not-for-profit offering home-based, non-clinical services for Albany County residents. Burbank, a Guilderland resident, will transition to being a member of the chamber she led.
Before becoming chamber president, Burbank was the development director at a homeless shelter in Albany and had a background in nonprofits and management. She said after joining the chamber, she was really busy and it was hard to get used to her new role.
"It took me a little while to get used to the pace," she said. "There are a lot of interactions because there are 500 members. … You could see people all day, but you still had to get your work done."
Burbank said eventually she became accustomed to the "very ADHD" atmosphere of leading the chamber, a role she described as being a cheerleader for the town as a whole.
"I want other people from other areas to come to Guilderland and see what we have here," she said. "We do a lot of work with larger organizations like CEG and GlobalFoundries … for their employees that are looking to move here."
The most rewarding aspect of her job was tying together businesses and town officials to promote Guilderland, she said.
"Using our larger system of nonprofits … and Town Hall and the businesses and the school district, anything that had to do with tying that all together was my favorite thing," she said. "One of the best memories was the first Souped Up on Guilderland, which we did right when I first came on … and it turned out really well and everyone loved it."
(Continued on Next Page)
Prev Next
Vote on this Story by clicking on the Icon