BETHLEHEM — Economic development was a key point of discussion when the candidates for supervisor of the Town of Bethlehem met in debate.
On Tuesday, Oct. 22, Republican candidate for supervisor Fred DiMaggio and incumbent John Clarkson met to answer questions from an audience gathered at the event sponsored by Spotlight News, the Albany County League of Women Voters and the Capital Area Council of Churches.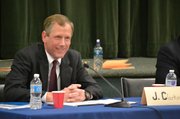 DiMaggio owns Homeland Security Partners, LLC, and was appointed to the Empire State Development by former Gov. George Pataki in 2003 to lead industry development of homeland security. He is also is the former chairman of the Bethlehem Republican Committee, but stepped down from his position in order to run for office. Now, DiMaggio is the head of the multi-party coalition Bethlehem United.
On Tuesday, he painted a picture of a town where development cannot get into gear, epitomized by the Vista Technology Campus.
"What are we doing to reach out and fill the technology park with what it was intended to be filled with?" asked DiMaggio.
Clarkson argued that Vista is thriving, and although a tech company has yet to be brought to the campus, the businesses within have helped expand the town's tax base.
"We've enjoyed life for 20, 30 years in this town without a tech business," Clarkson said. "We're working hard to get them, the governor is working hard to get them, we know sometimes these things are difficult."
Clarkson then criticized DiMaggio for his work with Empire State Development, claiming it was found to be a bad idea "that spent too much money."
"But I won't hold that against him," said Clarkson, adding that patience is needed to attract big businesses.
DiMaggio said he does not feel Clarkson has made economic development a priority during his two-year term in office. He found it hard to believe the town could not find $650 to remain a member of the town's Chamber of Commerce, and said the town should be looking to hire a full-time employee to focus on economic development.
(Continued on Next Page)
Prev Next
Vote on this Story by clicking on the Icon