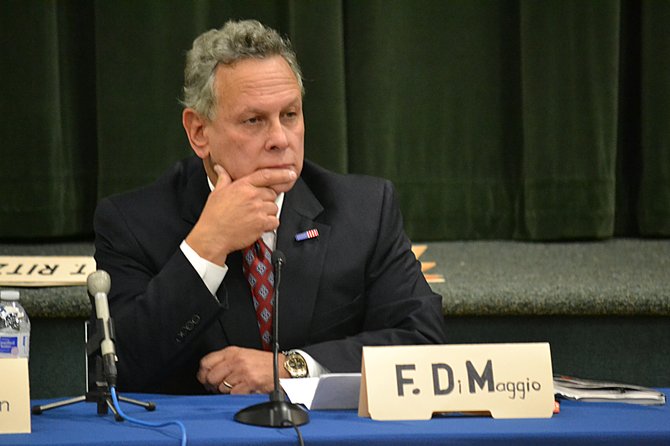 continued — Clarkson said making improvements to the town's infrastructure was an important investment in enticing businesses and complemented work done by the town's Industrial Development Agency.
The candidates diverged in other areas, as well. DiMaggio said he was concerned about the climbing tax rate, but commended Clarkson on his implementation of a multi-year spending plan. He also said numerous times how he felt a raise in taxes was unnecessary for 2014, and proposed fund balance be used for tax relief.
The supervisor said he has worked hard to cut costs and a majority of residents in Glenmont and Selkirk will see lower taxes this year because of an ambulance district consolidation. Clarkson said a small tax increase is budgeted for the next several years to cover future infrastructure costs and to maintain Bethlehem's quality of life.
But the two took a similar stance on the Wemple Corners development project.
DiMaggio said he would totally revise the town's Comprehensive Plan to keep similar projects from happening. Clarkson said he would not approve the plan as it stands because fixes are needed to solve traffic issues, and he wants to make sure the developer follows through with community enhancements.
Toward the end of the forum, Clarkson said he has focused on running a clean campaign, and accused DiMaggio of doing the opposite.
"I do not indulge in false arguments, or negative and cheap politics, and I must say we've seen a bit of that in the last couple of days," said Clarkson, referencing mailers that were sent to residents. "You know what, I'm not worried because … I think they reflect much more poorly on the person who sent them than the person they are about."
In a later interview, DiMaggio took responsibility in sending the mailers, but said he was not responsible for email blasts or a website attacking Clarkson.
The election is Tuesday, Nov. 5.
To watch video of the entire forum, click here.
Vote on this Story by clicking on the Icon