ALBANY — Two Albany entrepreneurs are hoping to win a Wal-Mart competition that would see their skin-care line on shelves all over the country.
Delmar native Jaclyn Livingston and her boyfriend, Shannon O'Brien, are competing in Wal-Mart's "Get on the Shelf" campaign with their all-natural skin-care line, Skin Candi. The products were created last year to help alleviate skin problems within their own family.
"Our baby had eczema and we were using the most expensive products to treat it," said O'Brien. "I started doing research into finding a more holistic approach, and it worked."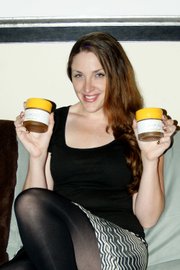 Livingston and O'Brien said they were unhappy with the chemicals found in the prescriptions they were given for their toddler. They began doing research on their own into organic ingredients found in nature known to relive the symptoms of ailments like eczema, psoriasis and blotchy skin. Through trial and error, the couple came up with several lotions that they tested on their family.
The couple then took what they started at home and turned it into a product for the public. Through their website, Skin Candi offers three facial scrubs called Face Candi, Face Candi + and Face Candi Venom.
The couple said all of the scrubs are honey-based and are infused with antioxidants and essential oils. Face Candi + uses Manuka honey, which is alleged to be one of the few, if only, topical solutions to treat the MRSA virus, said O'Brien. Face Candi Venom also contains a small amount of bee venom to create what Livingston called an "instant face-lift."
"We're not experts, by any means," said Livingston. "But we wanted to create a skin-care product we felt was safe and pure."
O'Brien said they found all of their ingredients either at the grocery store or through local specialty stores. The couple said their products are even safe to eat, and taste "yummy," hence the name. But they wouldn't suggest customers ingest them, all the same.
(Continued on Next Page)
Prev Next
Vote on this Story by clicking on the Icon