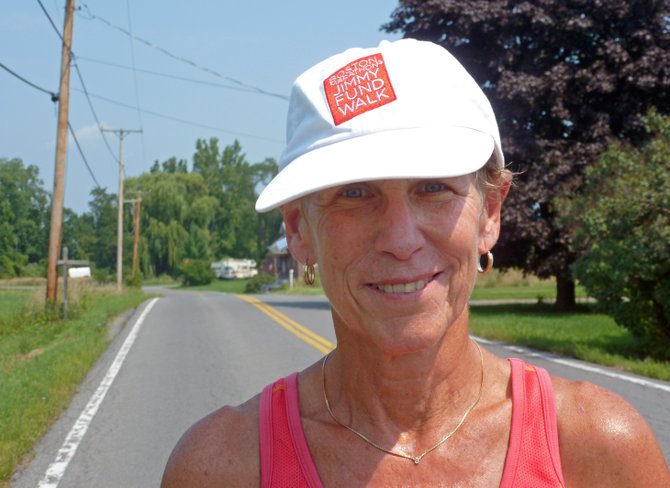 BETHLEHEM — Terry Moskowitz is walking 10 miles every other day, and pulling 20 on the weekends, but her pace has more behind it than desire for a solid workout.
Moskowitz, a 64-year-old Delmar resident, is training for her ninth Boston Marathon Jimmy Fund Walk.
"I had a family member that had cancer and they started giving me all sorts of information about it," Moskowitz said from the side of County Road 306 in Slingerlands.
Before she did her first Jimmy Fund Walk, she had just finished a 60-mile trek. The family member asked her why not do this new walk, and then she took on the cause. As Moskowitz become involved in the marathon, she said suddenly her friends starting being diagnosed with cancer. Many of her friends were going to the Dana-Farber Cancer Institute in Boston to receive treatment.
"This was my way of paying back," she said. "I had tons and tons of friends that started going there and this was my way of helping as I can."
The Boston Marathon Jimmy Fund Walk benefits the cancer institute and helps fund adult and pediatric care and research to improve the chances of survival. This will be the 25th annual marathon and it's tentatively scheduled for Sunday, Sept. 8. Since the marathon began, it has raised a total of almost $87 million. The course follows the same route as the 26.2-mile Boston Marathon.
On March 15, Moskowitz had a "tough surgery" and her doctor basically told her to take it easy. She didn't exactly stick to doctor's orders, though.
"(My doctor) is a sports person and he knows that I am crazy, but he didn't think that I was going to do this," she said. "People ask me why I'm doing it, but it is because I can."
She recently started sending messages to her friends asking for help raising funds for the race. She's nearly reached her fundraising goal of $1,500. Moskowitz said two friends' names would be on her back during the walk, one who has fourth-stage ovarian cancer and another who is fighting breast cancer.
(Continued on Next Page)
Prev Next
Vote on this Story by clicking on the Icon