continued — For one weekend a year, the Waterford Harbor is a place to go back in time and celebrate the heyday on the canal.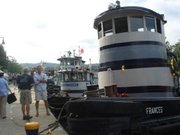 "It came about just as a way for tugboaters to get together and have some fun," Beardsley said. "All of a sudden to the surprise of everyone, people wanted to come down and see these tugboats. It became not only fun for the boaters, but fun for the public."
Beardsley said the goal is to renew an interest in the world of inland navigation in New York state.
Today, the majority of the canal system is used by vacationers rather than workers. The waterway connects the Hudson River with Lake Champlain, Lake Ontario, Cayuga Lake, Seneca Lake and Lake Erie, and passes through 25 counties and close to 200 villages, hamlets and towns.
The event has grown tremendously since it began in 1999.
"The first year there were 10 tugboats and 1,000 people. Now we see 25,000 to 50,000 over the course of three days," Beardsley said. "This year, we have about 35 boats, everything from mini-tugs to 140-foot real tugboats."
The tugboats come from all over the state.
"There are more tugboats in Upstate New York than you think. We have boats that come up the Hudson from Kingston, a number that work for New York state, boats come from the central parts of the state, the Finger Lakes, and a few commercial that operate here in the Capital District," Beardsley said.
Among the 26 tugboats that will be docked at the roundup is the John J. Harvey, a fireboat built in 1931. The boat has the capacity to pump 18,000 gallons of water per minute. The boat was retired by the New York City Fire Department in 1994.
The free event will feature tugboat tours; knot tying, beard making and fender weaving seminars; line tossing; kid's activities such as pony rides, face-painting and a bouncy bounce; fireworks; and live music all day long. Boat rides will be available for a nominal fee.
Vote on this Story by clicking on the Icon