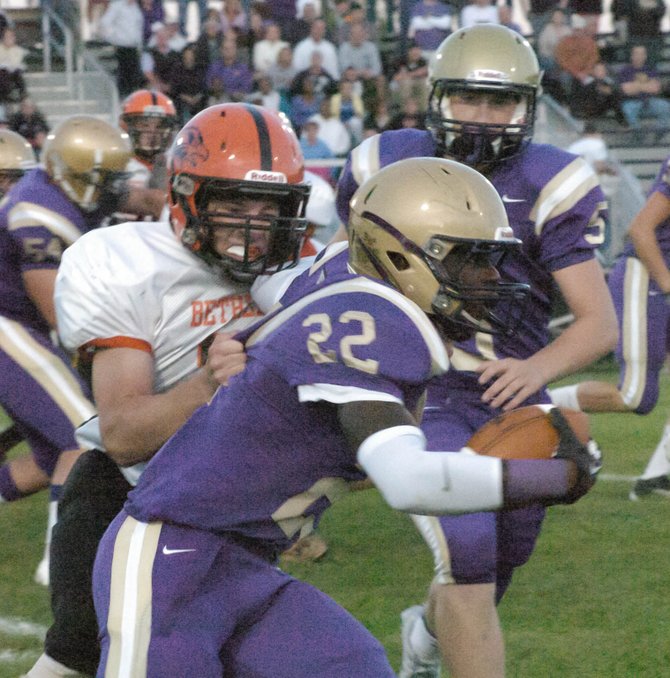 continued — Donald Vivian stepped in for Kolbe, and the Brothers turned to their ground game. Croskey completed the series with a 19-yard touchdown run to make the score 13-0. Vivian -- who rushed for 54 yards -- broke free for a 39-yard run later in the second quarter, which helped set up a 30-yard field goal by Hamel. Then in the final minute of the first half, long runs by Vivian and Croskey gave Hamel a 27-yard field goal attempt, which the junior kicker drilled between the uprights for a 19-0 lead.
"We've had some kickers, but we haven't had a kid who's a dedicated kicker (until Hamel)," said Burke. "He's got a great leg."
Leach said that his team felt fortunate to be trailing by 19 points at halftime. "If we hadn't limited them to field goals on those last two drives, it would have been impossible to come back," he said.
Clas got Bethlehem back in the game with an 18-yard touchdown run on the Eagles' first series of the second half. CBA answered on its next possession with Marini's 46-yard touchdown run before Clas busted through three defenders on his way to his 55-yard scoring scamper that closed the gap to 26-13.
It was the final highlight for Bethlehem, though. CBA's defense came up with several key plays in the fourth quarter, including an interception by Jason Micelli. A 37-yard touchdown run by Nasir Tune with 1:01 remaining sealed the Brothers' victory.
CBA now turns its attention to Shenendehowa in next Saturday's Empire Division showdown. The Plainsmen looked impressive in beating Columbia 34-10 Friday in Clifton Park, even after replacing most of their starters from last year's Empire Division championship team.
"There's no doubt they're going to be a young team. We know that," said Burke. "But, they're a winning program. Their coach will do a great job of getting his young guys prepared to win at this level."
Meanwhile, Bethlehem faces a Schenectady squad next weekend that is coming off a 55-20 loss at Section III's Fayetteville-Manlius Friday.
"We started several players on both sides of the ball tonight who hadn't started at this level before," said Leach. "We have to learn how to win at this level, and I think we will."
Vote on this Story by clicking on the Icon