COLONIE — Albany County Deputy Executive Christine Quinn allegedly deceived a Colonie nurse practitioner in order to illegally obtain hundreds of Ritalin pills, according to police.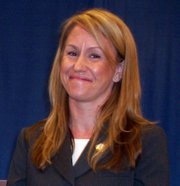 Quinn, 35, on Tuesday, Sept. 3, was arrested on charges of attempted criminal possession of a con-trolled substance in the fourth degree, a felony, and fraud, a misdemeanor. Quinn was arraigned in Colonie Town Court the same day and pleaded not guilty to the charges. She was released under the supervision of the county Probation Department and she waived any action by a grand jury.
The state Bureau of Narcotic Enforcement led an investigation that allegedly revealed Quinn illegally obtained methylphenidate, commonly known as Ritalin, in an amount that exceeded her prescribed dosage.
On March 5, Quinn allegedly went to a local nurse practitioner's office seeking a new prescription and claimed the pharmacy where she filled her previous prescription was only able to partially fill it with a month's supply, according to a complaint filed in Colonie Town Court by a state narcotic enforcement investigator.
But the pharmacy dispensed an 84-day supply only 28 days prior, according to the complaint, which included 270 tablets of 20 mg Ritalin. The felony charge stems from Quinn allegedly possessing more than 1 gram of a stimulant.
All documents filed in the town court, other than the complaints, pertaining to the case are sealed, because certain documents might contain confidential or privileged information, according to the court's seal order. These documents may include health information subject to privacy and security provisions, the order said.
Albany County Executive Dan McCoy's July 2012 appointment of Quinn was historic, because she became the first woman to hold the position. In 2002, Quinn interned as a law clerk at the Department of Law while attending law school. After graduating and passing the state Bar Exam, she rejoined the county as an assistant county attorney for four years and then became the first woman director of employee relations. She served as acting commissioner of the Department of Human Resources before her appointment to deputy executive.
(Continued on Next Page)
Prev Next
Vote on this Story by clicking on the Icon