GUILDERLAND — The Guilderland Central School District is turning to physical space in its quest to control costs.
The district held a community meeting Tuesday, Sept. 3, at the high school to have Paul Seversky, a consultant with the planning service at Madison-Oneida BOCES, discuss the goals and methodology of a district-wide building capacity study he will soon begin.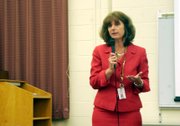 "This will be fantastic tool for us here in Guilderland as we work to make really good decisions on behalf of our kids," Superintendent Marie Wiles said.
Seversky will analyze how the district uses building space, scheduling patterns, current enrollment and future enrollment trends. After gathering this data and performing observations of facilities, he will present several options for the district to use existing space with certain programming models.
Over the next several months, Seversky will review if there are more cost-effective ways or patterns to organize programming from kindergarten to 12th grade over the next three years.
"I would suggested this an example of good, diligent planning by the board and your superintendent," Seversky said. "Given this new normal that we are all in … there is a whole new normal to financials and more importantly, to demographics of our country."
He said people are not having kids at the same rate that prior generations have, which has resulted in school districts seeing declining enrollment.
"Previously, successful ways in decisions on how to serve young people may or may not be viable solutions in this new normal," he said.
According to Seversky, the Board of Education and superintendent do not have any preconceived notions on what the results of the study might yield. As an outsider, he said he does not want to know what the "politics" are of the situation and what any group of stakeholders may want.
"The job is to hold up a mirror to a lot of real data and real understandable data that exists," he said. "Looking at that data … organizing it so that the board and the community can utilize that data as a tool to answer the study question."
(Continued on Next Page)
Prev Next
Vote on this Story by clicking on the Icon