continued — Faulkner said he was impressed with the fall series' diversity of backgrounds and ethnicities of the visiting writers.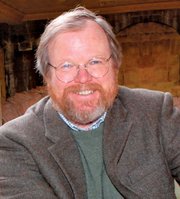 Nabbing bestselling nonfiction writer Bill Bryson was a "really big pick up" for the program, Faulkner said.
Bryson will be giving a reading on Saturday, Oct. 5, at 7:30 p.m., at the Clark Auditorium in the New York State Museum's Cultural Education Center in Albany.
"We are very excited to have him," Faulkner said. "He is one of the most engaging … and easy to read writers that I know of."
Bryson's new book, "One Summer: America, 1927," focuses on a pivotal time in American history, from Charles Lindbergh becoming the first man to fly nonstop across the Atlantic Ocean to Al Capone strengthening his grip on the illegal alcohol industry through murder and government corruption.
Before Bryson, the series will host a conversation between two poets laureate – current New York state Poet Marie Howe and current Vermont poet Sydney Lea – on Tuesday, Sept. 17, at 7:30 p.m.
Howe is a Rochester native living in New York City and was awarded the Lavan Younger Poets Prize of the American Academy of Poets. She recently launched the "Poetry Everywhere" project at New York University, which is an immersive poetry class seeking to put poetry in unexpected public spaces throughout the city.
Lea has authored 11 collections of poetry and this year he released "A North Country Life: Tales of Woodsmen, Waters, and Wildlife." Lea's work tends to focus on "the mystery of the natural world" and rural lifestyle. He serves as president of Downeast Lakes Land Trust, which seeks to create a million-acre wildlife preserve on the border between Maine and the Canadian province of New Brunswick.
Closing out the Visiting Writers Series is novelist Ayana Mathis, author of "The Twelve Tribes of Hattie," which is her first novel and achieved critical acclaim. The book focuses on a family's struggles as African Americans moved from the rural South to the urban North. It was the second selection for Oprah Winfrey's "Book Club 2.0" and is a New York Times bestseller.
Vote on this Story by clicking on the Icon