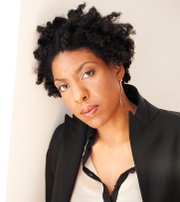 continued — "It is her first novel, but it is a very accomplished piece of work," Faulkner said. "Her appearance is sort of designed to come after book clubs have read the book and want to see the author."
He said the institute has been promoting Mathis' book to different book clubs in the area and will be providing discussion materials to clubs.
If you're interested in the cinema, the Classic Film Series kicks off on Friday, Sept. 20, with a screening of "Thurgood," which is about the nation's first black Supreme Court justice. The film captures Laurence Fishburne's Tony-nominated one-man show as Thurgood Marshall.
This focus on Marshall will continue Sept. 26, with 2013 Pulitzer Prize winner Gilbert King, a Niskayuna, who released this year a new biography on Marshall, "Devil in the Grove." The book details Marshall's early career experience defending four black men falsely accused of rape in Florida.
Faulkner said the film series has been going just as long and strong as the writer series.
"We have tired to show classic films and in a lot of ways contemporary classic films that people haven't had time to see," he said. "Things that are not seen on TV and not readily accessed on Netflix-type of opportunities. We are giving access to the real, solid, important list of films from generations ago."
Every year there is a silent film in the series that includes live piano accompaniment. This fall Mike Schiffer will be playing piano as the German film "People On Sunday" is screened on Sept. 27 at 7:30 p.m.
Niskayuna native Ben Coccio will hold a discussion after a screening of the film he co-wrote, "The Place Beyond The Pines," with the event starting earlier at 7 p.m. Coccio will also hold an informal seminar on screenwriting at 4:15 p.m. in the Science Library Room 340 earlier that day.
Vote on this Story by clicking on the Icon