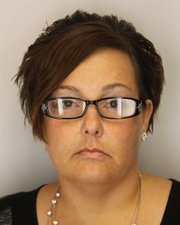 COEYMANS — Police have charged a Greenville woman with drugged driving more than eight months after the alleged violation.
Coeymans police said Cassandra Ray, 41, was under the influence of prescription medication when she was involved in a crash on Route 32 in Coeymans Hollow on Jan. 6, 2013. There were four children aged 16, 15, 11 and 1 in the car with her, police said, and the 16-year-old girl suffered a fractured vertebra in the crash.
Ray was charged with misdemeanor driving while ability impaired by drugs, felony vehicular assault in the second degree and a felony Leandra's Law violation because children were in the car, police said.
Police said a lab analysis of Ray's blood took months. She allegedly had alprazolam, an anti-anxiety medication marketed as Xanax, in her system.
Ray turned herself in to police, was arraigned in Coeymans Town Court and was released under the supervision of probation.
The Albany County Sheriff's Office and other local law enforcement agencies have launched anti-drugged driving campaigns in the wake of a 2011 incident in which three women were killed by LuAnn Burgess, who was found to be under the influence of prescribed medication at the time she ran her car off the road in Voorheesville. Burgess was eventually sentenced to probation and community service.
Vote on this Story by clicking on the Icon