continued — Both competitors got the first question right by answering that it is inappropriate to stockpile antibiotics. They both chose a can opener in order to gain access to the main ingredients in both of their recipes.
McCoy was called out early in the competition by Sheridan for not using gloves while making his pizza. The county executive told the judges not to worry because he had washed his hands prior to cooking, but Sheridan pointed out that in an emergency the water he used might be dirty.
"I have the health department on my side," McCoy joked.
The competitors then both answered a second question about emergency supplies correctly, and Sheridan suggested each choose a knife because it could be useful. McCoy joked he might use it as a weapon to give himself the edge over Apple.
The sheriff said he was finding it difficult to cook without using the proper tools. He didn't have a spoon to mix his salad with and Sheridan suggested he use his hands.
McCoy then strayed from is recipe and added a "little" extra salt to his tuna and sauce mixture. He slipped and added too much.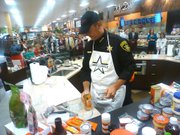 Since cleanliness counted, Apple worked to clean his station while cooking. McCoy took a different approach and was left with a messy station after the competition was over.
As time began to run out, McCoy hurried to plate his pizza and dessert, while Apple already had presented his dishes to the judges. Each found Apple's dishes to be decent, but were unsure about eating McCoy's salty pizza.
"Danny, you're going to make my blood pressure go up," said Connolly. The pizza was sampled, but much was left over.
Mahan said the pizza was too salty, but Apple's salad needed some more. However, all of the judges love McCoy's peanut butter pie, which was mostly mashed Reese's Cups in a graham cracker crust.
Each competitor was scored on three main categories, presentation, flavor and use of ingredients. Ultimately, Apple beat McCoy by a score of 50 to 49. The prize was an emergency preparation kit.
Apple later said the competition might have been fun, but being prepared is serious.
"This was an exciting way to relay crucial information about being prepared," he said.
McCoy said he was surprised by Apple's talent in the kitchen, but said he thinks his pizza would have turned out better under normal circumstances.
"I'm not sure about using the canned tuna," he said.
Vote on this Story by clicking on the Icon