BETHLEHEM — Delmar retiree Barry Isenberg is versed in political affairs, international relations, Judaism, life in China and Islamic architecture. And that's just the beginning.
Isenberg is one of thousands of people in the Capital District who have attended college-level classes taught by local college professors thanks to The Humanities Institute for Lifelong Learning, or HILL, in Delmar. The program was founded in 1993 to enhance lifelong learning opportunities for the adult community in the Capital District.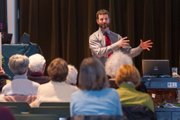 HILL was the brainchild of Fred and Helen Adler. Helen Adler was a former English teacher at Bethlehem Central High School and a huge believer in lifelong education.
This month, the institute is celebrating its 20th anniversary.
Isenberg, who is also a member of the HILL coordinating committee, said what makes HILL unique from other local lifelong learning centers is that it is run by volunteers. The nonprofit group runs as an adjunct organization of the Bethlehem Central School District, which helps by distributing the HILL program brochure as an insert in the school's continuing education newsletter.
Isenberg said because of the connection to the school district, people often think you must be a Bethlehem resident to attend. This is not so.
"Initially, it was basically Bethlehem centered, but we've been trying to expand our reach to other areas of the Capital District," Isenberg said. "We have a number of people that come from Colonie, Latham, Albany and Voorheesville."
According to Isenberg, the institute has grown tremendously since 1993.
"Our first semester in the fall of 1993 – there were only three courses at that time – we had 155 registrants," Isenberg said. "Our last semester, we had over 550 registrations."
Isenberg said part of this is due to the larger number of courses available now compared to in 1993, although he said the objective is not to have a large number of attendees, but to have a nice mix of courses including art, literature, studies about foreign countries, political and economic courses.
(Continued on Next Page)
Prev Next
Vote on this Story by clicking on the Icon