continued — "The political courses and courses about upcoming elections are always very popular and we get a lot of people there," he said. "One of our biggest courses was one on Shakespeare."
Professors come from local universities and colleges, including the University at Albany, Siena College, Albany Law School, Russell Sage, Skidmore College and Union College.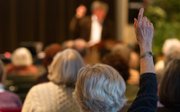 Alfred D'Alauro, a New York State retiree from Altamont who has been attending HILL classes for about 10 years, said some of his favorite courses have been given by Sheldon Solomon, a psychology professor at Skidmore College.
"He has come in a number of times," he said. "Psychology was one of my minors, so I was interested. He was a wonderful teacher."
D'Alauro said he generally takes at least two classes each semester and has his eye on an upcoming literature arts course.
Isenberg believes people continue to return each semester both for the social aspect and out of a desire to keep intellectually active.
"Most of the people who go to our courses are very active people," he said. "We have a broad base of people – retired teachers, librarians, attorneys – they may be retired from their profession, but intellectually they are extremely active."
Isenberg said it was his wife who first started taking HILL courses when she retired.
"She was a teacher in the Bethlehem School District, and she told me how great they were," he said.
It was then that Isenberg found he was hooked on learning.
"I find the courses extremely interesting and intellectually challenging," said Isenberg, who has been attending classes regularly for eight years.
Judi Campbell of Delmar said when she first moved to the area in 2006 she found the classes to be a great way to meet new people.
"At this point I know a lot of the people who take the classes. Often after I get the schedule I will talk to people and say, 'Are you taking this or that?'" Campbell said.
Vote on this Story by clicking on the Icon