continued — "I had first seen the mummies in third grade on a field trip at the Institute when it was down on Washington Avenue, as I'm sure many other people have." said Valentis. "They've become part of the Albany lexicon."
In 1988, Albany Med and the Albany Institute partnered to perform several scans on the mummies. X-rays were taken that showed some organs wrapped in cloth, but for the most part little new was learned. The Institute still believed they housed one male mummy and one female mummy. However, updates in technology would help dispel those assumptions 30 years later.
Unraveling the truth
Valentis said it was Bob Brier, an Egyptologist at Long Island University, who had doubts about the female mummy's actual sex. The coffin that the mummy was sold with included hieroglyphics that suggested in life, the mummy was a male sculptor and ancient priest.
"We were excited to find out the truth," said Valentis.
The crew was able to shoot footage for the entire documentary in one day. They began by getting shots of the two mummies being transported from the Albany Institute to Albany Med by UAlbany's student-run, volunteer Five Quad ambulance service. While writing the script, it was actually Rainbolt's idea to get the university's ambulance service involved.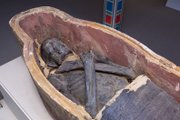 "They were extremely careful while moving them," said Rainbolt. "It was amazing to see the reverence for what was going on here through the whole process. Even the technicians took the same approach."
At the hospital, CT scans and new X-rays were performed over the course of a day. The film crew was allowed to get very close while the procedures were being done and also used the time to speak with the medical professionals and Egyptologists present.
In March of 2013, a year later, the results from the tests were announced. Tests confirmed the mummy that had been presumed female over the decades was actually a man.
Vote on this Story by clicking on the Icon