ALBANY COUNTY — Twenty-five years ago, when Adelaide Muhlfelder was sitting on the board of the Beverwyck Retirement Community, she didn't expect to be moving into the facility. But when the project was completed five years later, plans had changed.
"I already knew everything about the project," said Muhlfelder, 93. "By the time that five years was up my husband wasn't too well and we decided it was time for us to move."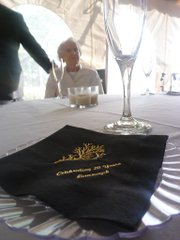 This month, Beverwyck, The Eddy's retirement community located in Slingerlands, celebrated its 20th anniversary. It was the first full-service retirement community to be built in Albany County.
Muhlfelder is one of four "charter members" still living at Beverwyck. Dorothy Storms, Arthur and Janet Hengerer and Muhlfelder have all been living at the facility since it was built 20 years ago. They were among 80 people who put their names on a waiting list to move to the facility before the building was completed.
"There was no shopping for us, this was the only place around," said Storms, who originally moved to the facility with her husband. "It's a great place to be if you need this kind of attention. You're probably better off at a place like this then on your own. I would not want to be on my own today."
To mark the anniversary, a week of events was held for the facility's 300 residents and their families. Seniors enjoyed themed dinners, trivia games, an ice cream social and a celebration gala.
Beverwyck Executive Director Doug Miller said while facility has grown over the years, the mission remains the same: to provide a caring place that feels like home for seniors in their later years.
Miller said the facility was built out in phases. In 1983, 15 cottages and 85 apartments were built. Twelve years later, another 85 apartments were added, along with an auditorium. In 1999, a 41-unit enriched housing complex called Beverwyck Terrace was finished. Larger cottages were built in 2008, and two years later, a nursing home-style facility with 24 beds was built.
(Continued on Next Page)
Prev Next
Vote on this Story by clicking on the Icon