continued — "They make hundreds and hundreds of the individual cakes, and over 1,000 portions of the signature cakes are sold," Fink said.
Fink said no one really knows where the original recipe came from, but it has been perfected over the years. Festivalgoers often ask where they can get a copy, so a cookbook was compiled titled, "Divine Kosher Cuisine," featuring the congregation's favorite carrot festival recipes.
Besides the famous cake, a variety of other carrot cakes and baked goods are available at the festival, including banana chocolate chip cake, pineapple carrot cake, chunky apple cake, apple carrot strudel, fudge carrot brownies, a number of different types of cookies and carrot bagels.
In addition to hamburgers and hot dogs, the food tent features traditional Jewish favorites such as a brisket sandwich, falafel chicken shawarma, chicken soup with matzoh ball, tzimmes, knish, potato latkes and Israeli salad. New this year is the addition of a vegetable and beef chili, said Fink.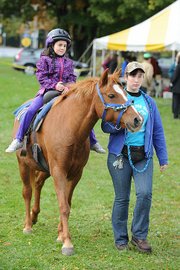 "The focus is to bring the community together," Fink said. "We have a huge children's area so there are a lot of activities for children to do and give families the opportunity to stay for a long time and enjoy the day."
Also new this year is a children's Home Depot workshop, running from noon to 2 p.m. Radio Disney, miSci (The Museum of Innovation and Science), and Reptile Adventure will also be at the festival along with pony rides and a petting zoo for kids.
Entertainment is scheduled all day, including a concert at 12:45 p.m. by Body and Soul, who play a variety of music from the oldies to the top 40.
"We have vendors and crafters indoor and outdoor with kitchen supplies, pottery, clothing, jewelry … you name it," Fink said.
The Westheimers sold the Carrot Barn to Richard and Sue Ball in 1993, and they have helped to keep the carrot festival tradition going, although the Westheimers continue to be a part of the festival's committee and are amazed at how much it has grown.
"It's wonderful to see how the Carrot Festival has evolved from a small produce market to a full-fledged fall festival," Rose Westheimer said.
The festival takes place on Sunday, Sept. 29, from 10 a.m. to 4:30 p.m., rain or shine, at Congregation Agudat Achim, 2117 Union Street, Niskayuna. Admission is free. Yankee Trails will provide a courtesy shuttle from Iroquois Middle School, 2495 Rosendale Road in Niskayuna, from 11 a.m. to 4:30 p.m. For more information, visit www.agudatachim.com.
Vote on this Story by clicking on the Icon