ALBANY — The Original Albany Ghost Tour isn't just about telling spooky stories. It's about giving people a different look at the history of New York state's capital city.
The 90-minute evening trolley tour of downtown Albany begins Thursday, Oct. 3, and continues through Wednesday, Oct. 30. The tour starts at 7 p.m. at the Ten Broeck Mansion and makes stops at Graceland Cemetery and the state capitol building. Other sites along the tour include the Empire State Plaza, the Cathedral of the Immaculate Conception and the Department of Education building.
As the trip progresses, tour guide and co-organizer Maeve McEneny will tell stories about ghostly encounters in the city, including one her father, Albany historian and former state assemblyman Jack McEneny, told her about a particular picture in the Ten Broeck Mansion – the man with the billy goat beard.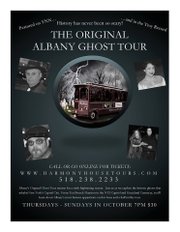 "One day, a psychic came to the mansion and asked to take a tour of the mansion," said Maeve McEneny. "Since it was a slow day, they allowed the psychic to tour the mansion. When the psychic went into the attic, the psychic found the picture of the man with the billy goat beard in storage. The psychic said, 'This is the angry spirit I've been feeling. This (picture) doesn't belong up here. It belongs downstairs.'"
The tour is run by Harmony House Tours, and there will be some additional support this year from the Tri-City Paranormal Society, a team of professional investigators who examine supernatural activities in the Capital District. The Tri-City Paranormal Society will join the tour for socials on Friday, Oct. 11, Friday, Oct. 18, and Wednesday, Oct. 30, to demonstrate their equipment and talk about some of the paranormal cases they have investigated.
"They (the tour organizers) came to one of our reveals at the Ten Broeck Mansion a few years ago," said Tri-City Paranormal Society founder Gary Robusto. "We were showing evidence to the public for a fundraiser, and they came to see our presentation. We have always wanted to work with them and collaborate ideas with this organization, and now that we have set events for the month of October we are really excited at this opportunity to work with such great people and a great organization."
(Continued on Next Page)
Prev Next
Vote on this Story by clicking on the Icon