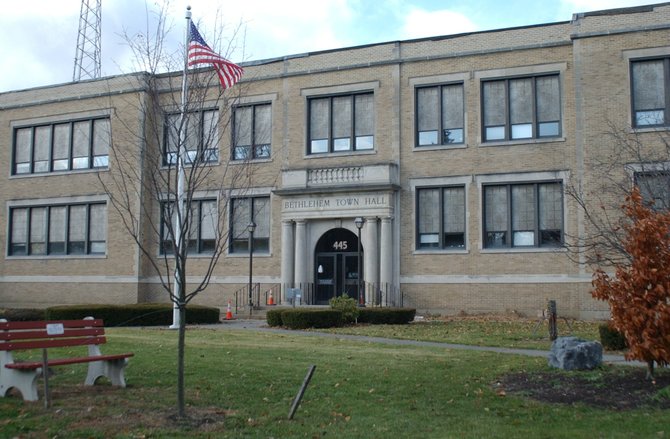 BETHLEHEM — Supervisor John Clarkson's tentative 2014 budget for the Town of Bethlehem calls for a property tax increase of $4.98 for the average household, in one of the first years in recent memory the town is not facing a budget gap.
The supervisor and Comptroller Mike Cohen presented the $38.24 million spending plan to the Town Board on Wednesday, Sept. 25. Expenditures are 1 percent above the 2013 budget. The tentative budget calls for no cuts and is mostly relying on use of the town's fund balance and grant money to stay balanced.
"I think this is great news for our community," said Clarkson. "We are in a good position financiallyand hopefully that means we can begin some of the projects we have been talking about for the past several years."
Under the tentative budget, the property tax increase would be below the state's tax cap, coming in at a 1.23 percent hike in the levy. This would equate to a 0.6 percent increase in the tax rate, or $4.98 for a home valued at $250,000.
The plan uses $10,000 from the town's fund balance and money from the state's Efficiency and Performance Award given to the town this spring to eliminate the town's dispatch fee for residents and implement projects over the next three years such as installation of sidewalks and contributing to make the Delaware Avenue Enhancement Study and Sustainable Bethlehem projects come to fruition.
Clarkson said he expects the major discussions for the budget cycle to be based on what projects the award money should go toward.
Some residents may see their tax bill go down based on the water, sewer or ambulance district they live in. Because the town's three ambulance districts have now been consolidated into one, many residents in Selkirk and Glenmont are expected to see a tax reduction.
(Continued on Next Page)
Prev Next
Vote on this Story by clicking on the Icon