ALBANY — A Guilderland man has pleaded guilty to burglarizing two Albany businesses and setting an abandoned building ablaze in his hometown.
Matthew C. Woelfersheim, 37, of Guilderland, pleaded guilty to arson in the third degree and two counts of burglary in the third degree, both felonies, before Judge Stephen Herrick in Albany County Court on Friday, March 21, according to county District Attorney David Soares.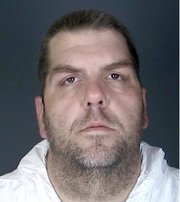 Woelfersheim illegally entered a business on West Street in Albany between July 25 and Sept. 1, 2012, and stole more than $1,000. He also entered a business on Watervliet Avenue in Albany on Aug. 28 and 31 of last year and stole money both times.
He also intentionally set an abandoned building ablaze on Sept. 30 of last year at 3400-10 Carman Road. Police said the fire "totally destroyed" the building. The fire also spread from the unoccupied building and damaged a neighbor's garage and vehicle, according to the District Attorney's Office.
Woelfersheim will be sentenced to serve two to six years for each burglary charge, which will be served consecutively and total four to 12 years in State Prison, according to the District Attorney's Office.
He also faces a concurrent sentence of four to 12 years in State prison for the arson charge when sentenced on May 9.
Woelfersheim remains in custody at the Albany County jail without bail to await sentencing.
Deputy Chief Assistant District Attorney Cheryl Fowler is prosecuting the case.
Vote on this Story by clicking on the Icon