GUILDERLAND — Athletic fields at Farnsworth Middle School were torn up after more than 1,000 people turned out for a state civil service exam and parking overflowed onto the grass.
The Guilderland Police Department was called at approximately 8:40 a.m. on Saturday, March 22, because traffic was backing up onto Route 155 and Western Avenue as drivers attempted to enter Farnsworth Middle School. Police and Guilderland school district officials described the incident as a public safety issue. In the scramble to park vehicles and clear up roadways, though, athletic fields at the school were ruined when people left after the test.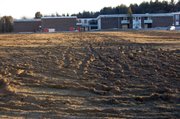 Guilderland Superintendent of Schools Marie Wiles estimated repairing the fields would cost around $6,000, which is also how much the state paid to hold the tests at the school.
"From everything I heard, it was a disaster," Wiles said.
Capt. Curtis Cox said police, upon arrival, directed traffic into the school and onto the fields.
"The field was authorized by an employee of the school district. We believed at that time of the day, the ground was frozen," Cox said. "Our intent down there was to get the traffic cleared up … so it is a safe environment."
As the day went on, the frozen fields thawed and people taking the test were forced to drive off the wet ground, which resulted in deep tires tracks through the muddy surface.
"I am not sure who directed to park them on the field, but, in fact, they had to," Wiles said. "I don't think there was a choice. If we are going to make a choice between a public safety issue and the field … it would have been horrible if someone got hurt."
District officials were under the impression 1,000 people would be coming to the two scheduled testing times on Saturday, with 500 people attending each testing session. Another two rounds of tests were scheduled for the following day but were canceled because of the overflow problem.
(Continued on Next Page)
Prev Next
Vote on this Story by clicking on the Icon