continued — The state Department of Civil Service wrote 1,000 people would be coming on the form, Wiles said, but it didn't specify if the figure was per session or the whole day. After the morning session, the same number of people turned out for the afternoon session, she said. The parking lot has approximately 500 spaces.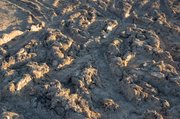 "If we knew that 1,000 people were coming for each session, we probably would have said we can't do it at the middle school and may have suggested the high school, Wiles said.
Ed Walsh, spokesman for the Department of Civil Service, said state officials thought the turnout was clearly identified before the event.
"We have to be more diligent that the whole school and us are on the same page in regards to volume," Walsh said. "We are reviewing … our process, and the goal is obviously to make sure we don't have any other misunderstandings of this type in the future."
For the most recent exam, Walsh said, tests were held at more than 20 locations statewide and there were no other issues. He also said that a similar incident has not previously occurred.
Jerry Boone, commissioner for the state Department of Civil Service, visited the fields located in front of the middle school on Tuesday, March 25. Boone also met with Wiles to explain the process for presenting a claim to the state to be reimbursed for field repairs.
"We hope to start the repairs immediately," Wiles said Friday, March 28. "We are just waiting now for the weather to cooperate."
Repairing the fields will likely take a couple days of labor, Wiles said, but the extensive damage on the four acres will result in the affected land not being used during the spring season. Wiles said the fields might still be closed during the fall sports season, too.
Vote on this Story by clicking on the Icon