GUILDERLAND — Five Albany County residents were arrested on drug charges following a police raid at a motel and the alleged sellers were armed with guns, according to police reports.
Police investigated the alleged drug tracking operation at the Western Motel, located at 2019 Western Ave. in Guilderland, for three months and made "several controlled drug purchases" at the location. There were two individuals allegedly running the operation and selling drugs out of the motel office, according to police.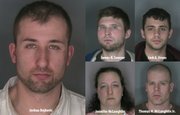 A search warrant was executed on Monday, March 31, and investigators seized more than 9 pounds of marijuana, 9.5 ounces of powdered cocaine, 6.5 grams of MDMA, a "small quantity" of hash, "several" Xanax pills and three Glock semi-automatic handguns. There was also nearly $5,000 in cash, which police believe to be proceeds from illegal narcotic sales.
Police arrested Joshua Bojkovic, 27, of 2019 Western Ave., Guilderland; James K. Sawyer, 23, of 19 Robin Ann Lane, Westerlo; Thomas H. McLaughlin Jr., 39, of 1205 Hillside Drive, Watervliet; Jennifer McLaughlin, 39, of 1205 Hillside Drive, Watervliet; and Jack A. Evans, 19, of 508 Orchard St., Delmar.
Before executing the search warrant, police observed Jack Evans enter the motel office and leave after a few moments. Police stopped Evans a short distance away, and he was allegedly found to be in possession of 13 grams of cocaine, "several" Xanax pills and small quantity of Hash.
Shortly after police raided the motel office and were searching the area, Thomas McLaughlin arrived at the office with a backpack looking to speak with Bojkovic. Investigators allegedly found McLaughlin to be in possession of a loaded .40 caliber Glock handgun and two pounds of marijuana.
McLaughlin said his pistol permit was revoked because he is a convicted felon, but said he had never surrendered the guns since his wife has a state pistol permit.
(Continued on Next Page)
Prev Next
Vote on this Story by clicking on the Icon