David Green
Town of Colonie Councilman
• Residence: Loudonville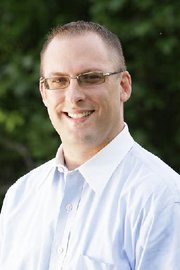 What are you listening to these days?
I'm in work mode right now, I'm a country music listener, most modern music, on FLY-92. I'm not that old yet. I'm 32.
What are you watching?
My daughter and I watch "Survivor" together. I watch "Blacklist," "Revenge" and "Grey's Anatomy." "Resurection" is a new show that just started, and I really like that too.
What's the last movie you watched?
The last movie in the theaters I watched was "Monster's University" with the kids. If my wife and I get to the movies, we're taking the kids to a movie.
What would be your dream vacation?
Bora Bora, off Thailand.
What are your hobbies?
Entertaining is a big one. It's difficult to have hobbies. I'm with the kids, or it's either work or politics. Entertaining is a huge part of life. I'm an avid sports fan. I try to get to a lot of community events to see what's going on in the town.
Last meal?
I would probably get a nice prime rib with shrimp scampi and the salad bar at the Barnsider.
Meet any person living or dead?
I would go back in time and meet Abe Lincoln or JFK. Those two presidents really intrigue me.
Favorite local moment?
When Syracuse won the NCAA Tournament and they had to go through the Times Union Center and Siena, I got an autographed ball from Jim Boeheim.

Something people would be surprised to learn about you?
I am a great cook and wine tasting enthusiast.
Vote on this Story by clicking on the Icon