Danielle Mozeleski feels like she was singing before she could speak.
The first time she sang in public was in kindergarten. Each of the students was asked to perform in a talent show, and a teacher had heard Mozeleski singing so she was recommended for a solo. The Disney movie "Aladdin" had just been released, and Mozeleski opted to sing "A Whole New World."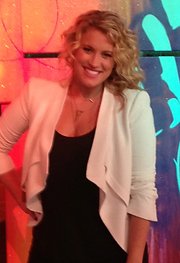 "She got very shy, but with the help of a fellow student, she got up there and sang," said Emilee Foster, Mozeleski's mother. "After that, she always loved being on stage."
Mozeleski, who now might be better recognized as Dani Moz, is one of 32 contestants left competing on this season of NBC's The Voice. The Bethlehem native said the experience so far has been surreal.
"They contacted me, and I never thought in my wildest dreams something like that would happen," said Mozeleski.
At Bethlehem High School, Mozeleski was in chorus and tried out for all the school musicals. She also played saxophone in the band and took piano lessons since second grade. One year, she won the area's Albany Idol competition, and she later placed second in the local Capital Region's Got Talent competition in Troy.
"I wasn't that big into sports," said Mozeleski, who said she believes her talents come from her father's side of the family. "Every free second I had was dedicated to music."
When she graduated from high school, she went on to Marist College, but chose a major in communications. While there, she joined the Marist Singers ensemble group, but for the most part, music took a backseat to her education. If she did have spare time, she took the opportunity to begin writing some of her own lyrics.
"It was a good time because I was going through break-ups and new relationships," said Mozeleski, 26.
(Continued on Next Page)
Prev Next
Vote on this Story by clicking on the Icon