Nancy Turner
Co-owner of the Altamont Old Stone House Inn
• Residence: Altamont
• Hometown: Colonie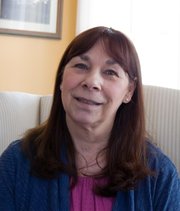 What are you listening to these days?
I've been listening to and really enjoying WAMC. You never know who they are going to be interviewing. I turned it on a few weeks ago and Alan Chartock was interviewing a neighbor of mine.
What have you been reading?
I'm a very avid reader. I've recently read "The Goldfinch" by Donna Tartt, but right now I'm just chilling out reading the new installment in Debbie Macomber's series.
What have you been watching on TV?
My husband and I love the "The Voice," but otherwise I just go to Hulu Plus.
What would your dream vacation be?
It would be to go and tour, along with taking cooking lessons, in the Provence area of France and then go up to Tuscany.
What would your last meal be?
Lasagna — and it has to be what we call "simple lasagna," which isn't really a simple lasagna. It's made with this white sauce and it is an old family recipe.
What is one of your hobbies?
I really like sewing. My grandmother taught me to sew when I was about 8 years old. Baby quilts is all I have been doing lately, because everybody is having babies.

Who would you most like to meet, dead or alive?
I would have loved to have been in the kitchen with Julia Carolyn Child.
What is your favorite local memory?
When I was a kid we would always go for rides and we'd go up to the mountains and we would always end up at the lookout at Thacher Park. I even have a picture of my mother standing at the overlook.
What is something most people would be surprised to know about you?
I used to be youth minister and I was a Christian educator before I became an inn owner. I did it through the '90s for about six years.
Vote on this Story by clicking on the Icon