NEW SCOTLAND — Last summer, an elderly woman reported jewelry was stolen from her basement. The case remained cold until police discovered a family member allegedly pawned the jewelry this month.
Albany County Sherriff's Office investigators last July received a complaint from a New Scotland woman claiming "several pieces of jewelry" worth more than $3,000 were stolen from her basement apartment. No suspects were identified, but investigators kept the case open and routinely checked pawnshop records from area cities for the missing items.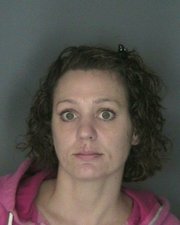 The routine checked recently revealed her step-granddaughter pawned the missing jewelry at an Albany pawnshop.
Police arrested Jennifer L. Do, 34, of New Scotland, on Tuesday, April 8, and charged her with grand larceny in the third degree, a felony. She was arraigned in Westerlo Town Court and released under the supervision of probation.
Do, a self-employed house cleaner, also had visited the same Albany pawn shop "numerous times" since September of last year and pawned several pieces of jewelry, according to police.
Anyone who has had contact with Do or had jewelry missing after hiring her is asked to contact the Albany County Sheriff's Office Criminal Investigations Unit at 720-8075.
Vote on this Story by clicking on the Icon