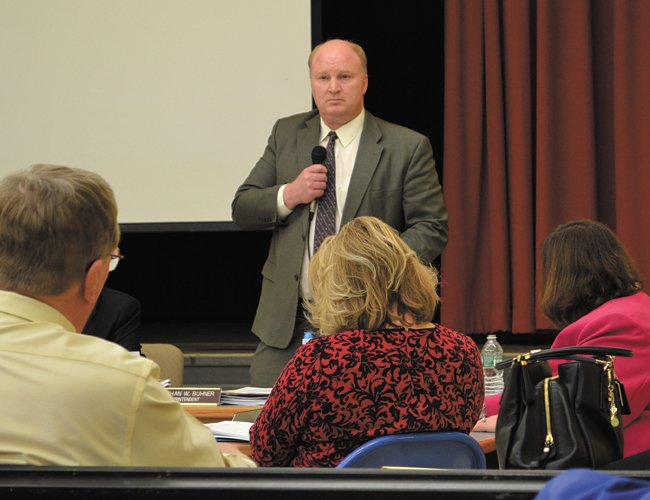 COLONIE — After the revised state budget was approved, the South Colonie Central School District found itself getting more than it was expecting, but not as much as it needs.
The district held its scheduled second draft budget meeting Tuesday, April 1, at Saddlewood Elementary School to announce its revised budget and the additional $532,595 it would receive in state aid.

"We did get about $400,000 back, but I guess the bigger pictures is we're still down $2.7 million this year," said South Colonie Central School District Superintendent Jonathan Buhner.
"That's where we were back in 2008. The state has taken away the ability to levy, and we're hoping some legislation this year sets a time frame to end the GEA in the next two years … The GEA and the failure to restore that funding has really had a negative impact on funding throughout the state, " added Buhner.
The revised state budget includes a Foundation Aid increase for South Colonie of another $198,204 and a legislative member item grant of $100,000 from Assemblyman Phil Steck.
The increase in aid brings the budget to $95,224,128, an increase of $2,891,128 from the 2013-14 school year. The first draft of the budget on March 18 had the budget at $94,724,156. The tax levy increase under the current budget is 2.64 percent, which is under the tax cap of 2.66, requiring only a simple majority vote to pass.
The additional funding will help to restore staff positions that the district considered cutting under the first budget. It will also afford the district the opportunity to look at programs that have been cut in the past and see what programs they can bring back.
"We'll be working the next few days to see where revenue is available and looking for restorations, if possible. We're at a working standpoint right now. We're going to take the revenue we're expecting and look at what programs we can restore," said Buhner.

(Continued on Next Page)
Prev Next
Vote on this Story by clicking on the Icon