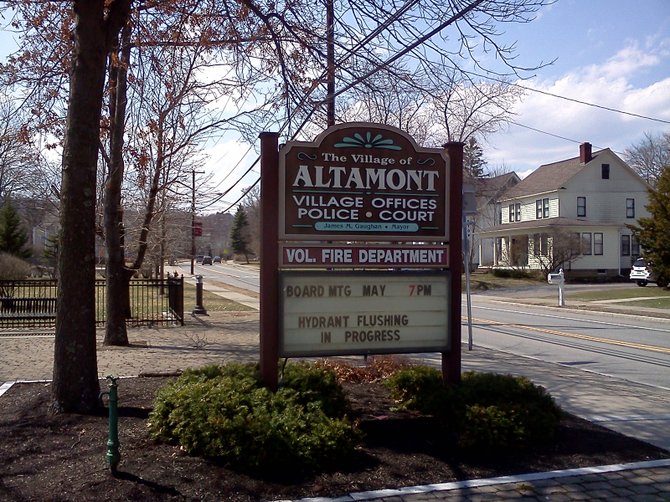 ALTAMONT — Village officials were able to keep property taxes unchanged in the village's recently adopted spending plan.
The Altamont Board of Trustees adopted a $2.14 million 2014-15 budget at the beginning of the month, which increases spending almost 1.65 percent or around $34,650. More general fund reserves are tapped to help ease the tax burden, which holds an increase of almost $40,000 and totals around $83,100. Village staff and elected officials were given a 3 percent salary increase.
Mayor James Gaughan on Thursday, April 10, said the budget was a balancing act between being fiscally prudent and maintaining services.
"A lean budget with no tax increase is a result of very hard work by the board and department heads to look for things that could be cut while retaining services and looking for savings whenever they could," Gaughan said.
Economic factors affecting the budget included a slightly increasing county sales tax revenue, decreasing health insurance premiums, lower CD interest rates, and increased debt from building a new sewer processing plant. Gaughan said savings were achieved through hiring new staff at lower salaries and Public Works Superintendent Jeffrey Moller cutting costs.
"Budget decisions did not come easy. Altamont, like other communities, struggles to maintain essential services in a difficult economy," Gaughan said in a statement. "Many of our residents are having a difficult time making ends meet. The Board of Trustees crafted a lean budget that will not unfairly burden them while seeking fiscal solutions other than just raising village taxes."
An energy audit was recently completed and village officials are planning to implement cost saving measures to offset "astronomically" rising energy costs, according to Gaughan. Local officials are also hopeful mortgage tax receipts will increase and county sales tax revenue continues to steadily grow.
Another burden the village is bearing stems from reduced county reimbursements for senior meals and transportation. Gaughan affirmed the village is committed to maintaining its "strong" senior program.
(Continued on Next Page)
Prev Next
Vote on this Story by clicking on the Icon