RAVENA — Lafarge is ready to invest "hundreds of millions of dollars" to modernize its Ravena cement plant six years after proposing renovations, according to officials.
Federal, state, and local officials and business leaders gathered on Friday, April 11, for Lafarge North America's groundbreaking ceremony at its Ravena plant. The project will replace the more than 50-year-old equipment with "state-of-the-art" technology, which company representatives touted would make the plant one of the most advanced dry-kiln facilities nationwide. Area leaders praised Lafarge for being committed to the region and improving environmental standards.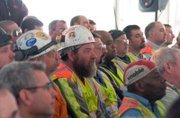 "This is a history-making event. You build a cement plant for 50 years [of usage], so this plant will be a part of the history of this region," Lafarge U.S. President and CEO John Stull said. "This groundbreaking of our Ravena modernization project marks a great day for Lafarge and for our employees, our customers and this community."
In 2010, New York joined 11 other states and the federal Environmental Protection Agency in a consent decree requiring Lafarge to limit pollutant emissions from its 13 plants nationwide. The Ravena plant was supposed to meet imposed limits by the first of next year, but the company sought an extension claiming the cement industry was recovering slower than expected from the recent recession.
Lafarge was granted an extension until June 30, 2016, to compete construction. The amended settlement though strengthened emissions standards and required the company to further reduce pollution locally.
The core aspect of the modernization includes replacing the plant's two long wet kilns with a preheater kiln and installing a wet scrubber and selective non-catalytic reduction technologies to reduce emissions. There will also be a new raw mill, fuel grinding mill and several new dust collectors.
The existing Ravena facilities will be shut down after the project is completed.
"Significant capital investments are being committed to the Ravena plant that will strengthen Lafarge's core market position in the Northeast and enable this plant to compete successfully and meet the economy's need for high quality cement," Mike Kralik, plant manager, said. "My team and I are proud of the high-quality product that we make here and to be a part of this great community.
(Continued on Next Page)
Prev Next
Vote on this Story by clicking on the Icon