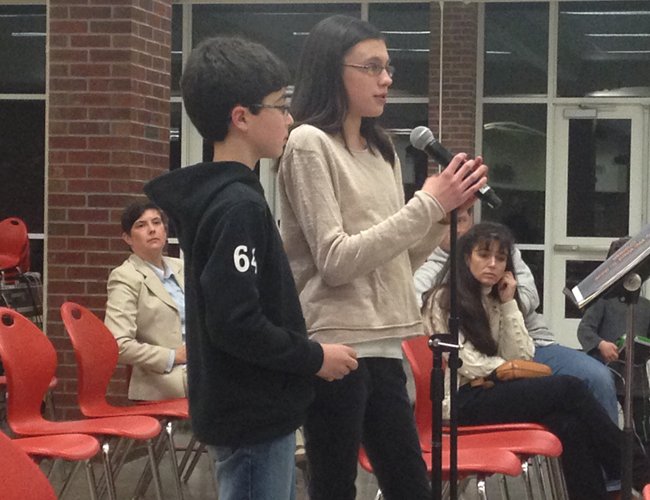 DELMAR — As the Bethlehem Central Board of Education continued budget discussions last week, a group of parents came out to protest potential cuts to classes at the high school.
Parents of students who participate in the Lab School said cutting three of its classes would devastate the program. Others parents and students attended the meeting on Tuesday, April 8, to advocate for the Chinese language program.
Administrators said the classes were not technically being cut because of the budget, but because of low enrollment.
"There are 44 classes that aren't running next year because of low enrollment," said Assistant Superintendent Jody Monroe. "Nearly 400 kids from throughout the high school will be affected."
The district's policy is classes cannot be held with fewer than 17 students. Superintendent Tom Douglas said the money was no longer available to run such small classes.
Lab School parents were told at their monthly meeting changes may need to occur in the program and several classes were being cut, including French, Spanish 4 and Math 5. The plan was for Lab School students to be placed into language classes with the school's general population. It would then be recommended for those wishing to take Math 5 to sign-up for advanced placement statistics or calculus.
Parents said the changes would adversely affect 100 students and significantly diminish how the program was structured 21 years ago. They were also upset they were not informed sooner about the changes.
"This school district prides itself on transparency, so why weren't we told?" asked Concetta Youngblood of Slingerlands.
The main issue was cutting the language and math classes would take some teachers out of the Lab School. This means teachers would no longer be available to mentor students who are busy throughout the year writing their final paper and preparing the presentation that goes along with it. All of the students would then need to be split between the remaining teachers, leaving less one-on-one time.
(Continued on Next Page)
Prev Next
Vote on this Story by clicking on the Icon