GUILDERLAND — Simply getting to an outdoor fire near Farnsworth Middle School was the most challenging aspect for firefighters early yesterday evening.
More than two-dozen first responders were at the scene of a small fire near the edge of the middle school's baseball field. The fire started around 5 p.m. yesterday and was extinguished approximately a half-hour later. Firefighters remained on scene for at least another hour and were spraying water on the burnt landscape.
Photo Gallery
Farnsworth Middle School outdoor fire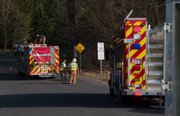 Check out scenes from a small outdoor fire near Farnsworth Middle School on Monday, April 21.
Westmere Fire District spokesman Sean Maguire said there was "a little bit of a fire over the ridge" when firefighters arrived. Westmere firefighters requested outdoor equipment from Fort Hunter and Guilderland Center fire departments because of the fire's location. Small trucks and all-terrain vehicles were used to reach the blaze.
Westmere Assistant Chief Tony Carrow said no buildings were in immediate danger.
"Outdoor fires are serious because they are not contained to a specific area and can sometimes be quite challenging," Carrow said in a statement.
Maguire said the danger for this fire was not because of its proximity to the middle school but its surroundings. Pine trees surrounded the area, and he said there was a lot of "dried out, dead vegetation" in the woods.
"That could continue to smolder, get underground and start to travel, so it's good that we knock it down back here before we have any problems," Maguire said.
The fire reportedly affected less than one acre. There were no injuries reported.
Several 911 calls were received about the fire from nearby Presidential Lane residents and a school groundskeeper, according to local officials.
The source of the fire remains under investigation, with a local official predicting on Tuesday, April 22, that an answer won't be known for "some time."
"They'll have to get in there and take a look and see if it was just natural from the warmth of the day, or if somebody had been back there," Maguire said at the scene.
Westmere Fire officials urged people to be aware of outdoor conditions, especially when conditions are dry. Local regulations restrict outdoor fires and open burning year-round. Where small outdoor fires are permitted for cooking, it's important to have immediate access to an extinguishing agent appropriate for the fire.
"This time of year, even though the snow has recently melted, we haven't had a great deal of rain so that leads to some dry conditions outdoors," Maguire said. "On a nice day, like today, just a little bit of ignition can cause an outdoors fire."
Vote on this Story by clicking on the Icon