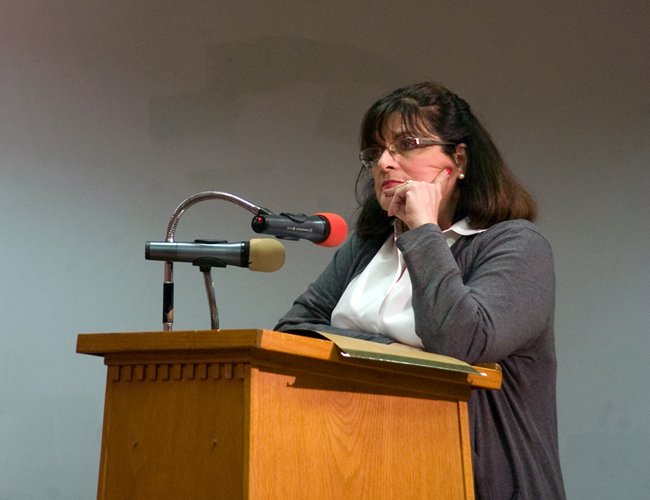 GUILDERLAND — Uncertainty still looms over a Guilderland man's proposal to keep chickens behind his house, but it's clear opinions on both sides haven't swayed.
The Zoning Board of Appeals on Wednesday, April 16, continued the public hearing on Dale Owen's request to keep up to 10 laying hens outside his family's home at 140 Mohawk Drive. Owen provided the board with the requested construction plans and answers to questions it had.
Some new residents, who couldn't attend the March 5 meeting, spoke out against the proposal. Supporters continued attempting to dispel fears of those opposed.
"I have never seen such detailed construction plans for a building in my life," said Board member Thomas Remmert, who is acting as chairman for the application. "I could probably build one myself following those plans, so we do appreciate (you) providing that."
Zoning board Chairman Peter Barber previously recused himself from discussions and casting a vote on the application because he lives within Owen's neighborhood.
Owen, who has four children, previously said his family grows "a substantial amount" of their vegetables and most of his family is vegetarian. He also said they go through "a ton" of eggs and views keeping chickens as an opportunity to teach his children responsibility.
Owen said he has not "done anything" toward building the coop, which is unlike prior chicken requests. Both times, the residents requesting to keep chickens already had the fowl on their property.
Zoning board members contend the town code does not explicitly allow or disallow the keeping of chickens, so the members review requests on a case-by-case basis. Remmert stressed previous decisions did not set a precedent, and the board stated such when the approvals were given.
Unlike prior requests, Owens neighbors appear mostly opposed to the chickens joining the neighborhood.
Mary Toscano, of 120 Mohawk Drive, said when she was a child in a central Massachusetts city, she would visit her aunt's farm where there was "a flock of chicken" and two horses. Toscano said she clearly remembered the "odor of urine and feces" emanating from the chicken coop.
(Continued on Next Page)
Prev Next
Vote on this Story by clicking on the Icon