Taryn Kane
North Colonie Central Schools Communications Specialist
• Hometown: Clifton Park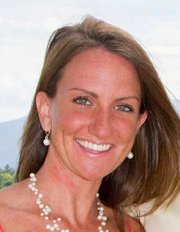 What are you listening to these days?
I like all kinds of music, from pop to classic rock. But lately, I've been listening to the Alternative Nation station on Sirius.
What have you been reading?
I've loved to read since I first learned how. Mystery books are my favorite.
What have you been watching on TV?
"Modern Family," "Homeland," "Breaking Bad" and "Revenge."
What was the last movie you saw?
"American Hustle" and "12 Years a Slave."
What would your dream vacation be?
This is a tough one. I absolutely love warm weather, so anywhere that has a beach is great. I've been to Hawaii with my husband twice. But we also love to ski, so one vacation which is on our bucket list is a ski trip out west.
What are some of your hobbies?
I love skiing in the winter, running during the spring, summer and fall, and doing yoga.
What would your last meal be?
Filet and lobster.

Who would you most like to meet, dead or alive?
I would love to meet our current or a former U.S. President. Politics aside, I believe anyone who is elected President has one of the most challenging jobs there is. I spent six years working as a television reporter and had the opportunity to cover a few Presidential visits. But getting an actual interview is something only national TV networks usually have access to. If given the opportunity, I would love to ask a range of questions about everyday duties, international issues and home life.
What is something you think most people would be surprised to learn about you?
I danced for 18 years and taught dance to students ages 6 through 9, as well as to college students. Dance was always a huge passion of mine and always will be.
Vote on this Story by clicking on the Icon